EFT Package
START LEARNING RIGHT AWAY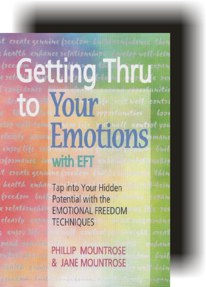 This page is for Program Members only.
Your materials are all available now for immediate download on this page.
Bookmark this page.
1) Getting Thru to Your Emotions with EFT Ebook
This book is packed full of information on how to do EFT and what to do when the basic tapping sequences aren't working.
This book also goes beyond the typical techniques with processes that help you to delve deeper into an issue, which is often the key when EFT is not working. There are also individual chapters with information on how you can use EFT for a number of common challenges that millions of people face.
CLICK HERE to access the EFT PDF Ebook. Left click to open and right click to download and "save target as" or "save link as".
2) Getting Thru to Your Emotions Videos
As you learn the methods in the book, refer to these videos for demonstrations of the techniques in action. Click on either of the following links to go to the video pages.
3) Getting Thru to Your Emotions with EFT Audios
These audios provide guided versions of the EFT processes in the book, so you can experience them for yourself.
CLICK HERE to go to the audio page.
Enjoy your downloads!