Explore how you can create abundance, health, success, and more in this unique, powerful Live Certification Telecourse with EFT Experts Phillip & Jane Mountrose
Start now with this insightful video...
Note: Due to time zones, this program is offered to people in the United States, Canada, Asia and Australia.
If you live outside those areas, consider our home-study certification courses.
Would you like to know about a unique Holistic Coaching and Healing Program, one that has been developed for nearly two decades that people rave about?
It's about combining coaching with EFT and powerful holistic techniques to produce extraordinary results.
It's like a great recipe. When you know how to put holistic coaching and energy healing together, and add a strong spiritual perspective, what do you get? You end up with the clarity and confidence to really help others. Let us explain further...
Curious? Get a Free Planning Session
How we put all the pieces together

Flashback 20 years ago. We wanted to know the best ways to grow spiritually. We deeply explored esoteric philosophy like the Gurdjieff teachings and transpersonal psychology. We studied different spiritual traditions as well. It all led us to a clear understanding....
In order to grow, you need to clear blocks, often unconscious ones, that are in your way. Through years of research and exploring, we found out what worked. Over the years we developed effective and easy-to-use processes like EFT (Emotional Freedom Techniques) and SK (Spiritual Kinesiology).
| | |
| --- | --- |
| | Then several years ago, we found another missing piece to the spiritual growth puzzle: holistic coaching. We always took a mind-body-spirit approach with healing. Now we added goal setting and support tools that coaching can so richly provide. To be fully effective, we found you need both elements: energy healing tools to clear blocks and strategies to continue forward for a greater life. |
Since 1994, we have reached thousands of people through our popular books on EFT, Spiritual Kinesiology and personal growth, and our classes, certification trainings and personal consultations.
We are also the co-founders of Awakenings Institute, a non-profit organization devoted to people's spiritual growth and the Heart of Success Academy.
Is this you?
You want to be more confident helping yourself and others, to make transformational changes

You want to learn with like-minded, supportive people, where you are acknowledged and have room to grow

You place a high priority on integrating spirit into form, to put things in the bigger picture, to become more consciously aware

You want to know the best, effective ways to coach and heal, to help people and make a profitable living from it if you choose.

You want too know the best ways to succeed in the new economy, aligned with your gifts and talents..

You want to make a bigger contribution and know you can grow greatly by fulfilling your life purpose
The idea is to find the right vehicle to go forward, one that is fulfilling in itself and will have many benefits now and into the future.

How you too can open to possibilities that you may never have imagined possible
This program has been taught and developed for over 15 years. It includes proven coaching and healing techniques as well as the best current approaches available.
So what can you expect if you know how to use coaching and healing in a spiritual context?
You will be confident that you can make a very positive difference in people's lives
You can get consistent results helping yourself and others
You will be able to easily integrate a deep understanding of holistic healing, along with taking effective action
You will have a powerful toolbox of soul-based approaches. These will serve you well to deal with a wide variety of situations and the challenging cases that come up.
You will be able to immediately apply the tools and knowledge you learn into your daily life and to help others and build a profitable business if you choose.
The 3 possible reasons people take our time-tested Holistic Coaching and Healing with EFT Certification Program are...
1. Personal and Spiritual Growth -- bottom line, everyone who takes this program has profound transformations, going deeper into their personal journey, life purpose and expanded consciousness.
These next two possible reasons may apply to you, depending on your particular background.
2. Create or Expand a Practice -- whether as a coach or holistic practitioner, from a traditional or holistic approach, a conventional or alternative healthcare field.

3. Compliment what you are currently doing -- whether as a business person, healthcare provider, teacher, housewife or other area.

Other Transformations
Yes there is tremendous confidence and clarity you will gain from taking the Holistic Coach and Healer with EFT Certification. Yet there is more... Our students report that this program has made a profound difference for them because of the following...

This program is ultimately about creating a soul-based life, not just a practice. Some take the program for the sheer spiritual growth and personal use, with the idea they may start a practice at some point. Others add the profound tools and knowledge to their existing practice and background. Others use it to start a holistic practice.
All who take this program find that it gives them a deep appreciation of holistic healing, coaching, and their life's meaning and purpose
As a note, there is a comprehensive marketing program that is included in this program. In addition, there will be additional information provided in key areas to have a profitable practice.
This program is designed to dramatically accelerate your spiritual growth and your ability to help others. Don't be surprised if you create a life you dreamed of but never thought possible. Students often say they divided their life from before they took the program and afterwards.

Kelly Laurendine
Yoga Teacher and Massage School Director,
Mobile, Alabama


"When I first came across this program I was quite financially strained and was actually not looking for a program, but a resource (like books, etc.) But I did feel "led" to this telecourse.

Flash forward a year later after I had finished the telecourse and now my prior issues of self-sabotage and confidence are a thing of the past. The processes in the telecourse are invaluable and integrate well together.

Most important is a clear and present, direct-access channel to my soul. As I connect more with my true self, I am more able to relate to others and fulfill my purpose. Thank you Phillip and Jane!"

You will come to value yourself at a deeper level and appreciate your unique gifts and purpose. As a result, you will feel more alive and excited about life.
Another unexpected benefit

Students tell us there is something else, often unexpected, that they receive from the experience of becoming a Certified Holistic Coach and Healer with EFT...
| | |
| --- | --- |
| | It's the class community that develops. You will meet people with like-minded interests and values who you can connect with, practice the techniques, and become close friends and associates if you desire. Connecting with "kindred spirits" is one of life's treasures and of incalculable value. |
In order to succeed and fulfill your purpose, you need to persist through the challenges you encounter. That's where having a support community with fellow students is so invaluable. It will support you through the up's and downs so you can grown and make your contribution.
Also you will be deeply acknowledged for what you bring to the class. It is a warm and supportive learning environment. Plus you can go at your own rate. It's easy to fit in the way that is right for you
Audrie Marie Edwards -- Musician, Relationships Coach

"I wasn't sure if I would be able follow through with what I learned in the program. I found that it was very easy to apply. It was almost like I was remembering how to coach and help myself and others heal. it was very natural. I really did learn how to focus and follow through. And I reached so many goals, from dealing with overwhelm and anxiety to attracting the exact relationship I wanted.

And the group support from the class was invaluable. I made great connections and could do everything that much easier knowing I was not alone, but fully supported by the Mountroses and my classmates."
Why choose this Program?
Although there are other trainings, we know of none that uniquely and profoundly combines holistic coaching with energy healing and EFT. One that has so much spiritual depth.
This program has been developed and tested over 15 years. Starting in 1994, we offered it in weekend trainings in different cities. We have continued to add and improve all the tools and knowledge to optimize the ease and depth of your learning.
We find that most people learn more effectively by having weekly short classes (75 minutes), rather than a large training in one weekend or more.
Also, you can take the Program from anywhere you have access to a phone.
As a note, you may know that EFT (the Emotional Freedom Techniques) is a premier healing technique, recognized worldwide for its ease of use and extraordinary effectiveness. We combine this "modern miracle" with our GTT (Getting Thru) Techniques. Easy to use, this approach quickly finds and transforms core issues.
We continue to add these powerful and effective techniques to the Program. We also include proven NLP (Neuro-Linguistic Programming), hypnotherapy and kinesiology (muscle testing) – all put in a pragmatic, spiritual context.

Our Heart and Soul of Success Signature Program is carefully designed to give you optimal results. You will get our time-tested step-by-step tools for bringing spirit into form.

We sense where you're coming from as we started out wanting to know how to be clear, confident and effective in helping ourselves and others grow personally and spiritually. We will share the best of what we have learned and created. We hold nothing back. In the process, you will save years of trial and error, and wasted time and energy.
Jay Horn -- Holistic Minister and Healer, Musician

"I didn't know the Mountroses before enrolling in the program, so it was kind of a leap of faith. I'm so glad I decided to enroll. Besides the depth of tools and understanding I received, there was something else very valuable. The Mountroses themselves: their vision and how they model the profound coaching and healing tools they taught.

The program was open and flexible yet had a step-by-step structure. I also didn't have to be a carbon copy and blind follower. It's one of the rare programs where I could learn and grow while being recognized for my own life experience and understanding.

It instilled a lot of confidence in me and it helped me to start my own spiritual community!"

What's included in the Holistic Coaching and Healing with EFT certification?

There are three courses and two levels of certification. Here are the details...

Here are the THREE WELL-GROUNDED, HOLISTIC COURSES:
• Discover Your Life Purpose - Access your deeper identity as a spiritual being on an evolutionary journey, here with important lessons to learn and unique gifts to share.

• Manifesting Your Dreams and Purpose - Using fast and effective energy healing techniques, like SK (Spiritual Kinesiology) as well as hypnotherapy and NLP. Learn how to create from your heart's genuine desires.

• Heart of Success: Transformational Spiritual Coaching - This profound and practical course teaches you how to prosper in the new economy, using holistic life coaching and spiritual life coaching for ultimate success. It also includes how to use SK (Spiritual Kinesiology) for rapid and long-term success.

View the column to the right for course details =====================================>
Each course takes 4 months to complete. Trainings are Tuesdays and Thursdays at 6pm PST. All calls are recorded in case you miss it or wish to review it.

The TWO LEVELS of CERTIFICATION:

Here is an overview of the two Certification levels. Each level builds on the previous one by adding a single course. So the first level includes 2 courses and the second level includes 3 courses.
Level 1 Certification: Holistic Life Coach Certification
two courses, 140 hours, 8 months of training

A unique combination of coaching with the soul-based holistic healing elements needed to optimize success. The teleprogram includes 32 weekly teleclasses, 32 weekly telelab classes, plus study and practice time. This program includes any two of the four courses.

Level 2 Certification: Holistic Coaching and Healing Certification
three courses, 225 hours, 12 months of training:

Adding a third course deepens your transformational journey into learning the soul-based coaching and healing elements needed to experience optimal growth. It includes the 140 hours for Holistic Coach Certification and 85 hours of additional training.

The teleprogram includes 36 weekly teleclasses and 36 weekly telelab classes, plus study and practice time. This program includes any three of the four courses.

You can also start by taking any individual course as well. Each course includes an in-depth manual, book, and CDs or DVDs..

Program Details and Structure

The program has been carefully designed to maximize learning. Each of the fhree courses consists of a weekly teleclasses on Tuesday at 6pm PST (75 minutes) and one weekly telelab class on Thursday at 6pm PST (65 minutes) to practice the techniques.
Each course is four months, totaling 32 sessions (16 classes and 16 lab/practice classes). The calls are conducted through a telephone bridge line which you can access from anywhere in the world.

All sessions will be recorded if you miss one or wish to review it.
What would it be like to take the Holistic Coaching and Healing with EFT Course?
Twice a week you would call in to a special telephone bridge line and have a teleclass one time and the telelab the next time (about 70 minutes each).
NOTE: All calls are recorded so you can review them or if you can't attend them live.

The course would draw on a detailed, written manual, along with videos, audios and special handouts.

You would be included in a special email group, so you could communicate with peers and instructors, getting questions answered, receiving extra insights and developing valuable relationships

You would gain access to an information-rich Class Resource Page, with valuable information and instructions on how to optimize the program.

Plus you would receive special bonus materials: including the home-study "How to Market Your Holistic Practice" as well as extra bonus classes and labs

Once a month there would be a week off, to give you a break and extra time to review or catch up if needed.

You would be in an exciting, positive momentum, gaining profound knowledge and tools regularly. Your life purpose would be more fully embraced and realized, with the invaluable support of like-minded peers.

Special features:
• You will have access to veteran instructors for the teleclasses, as well as by email or phone for questions and feedback, ... making it a highly experiential, hands-on course.

• The weekly telelab classes provide opportunities to explore the techniques you learn in the Tuesday teleclasses, with group practice and more opportunities to address your questions

• You will have daily access to an email Resource Group of your peers, which provides a vehicle for sharing information and ideas to further your mutual goals and development

• You will receive an in-depth library of study materials you can rely on for learning and for future reference.
Start with a Free Planning Session Now
The Study Materials:

Awakenings' Program provides a wealth of invaluable resources that you will have available to continue your personal and professional development for years to come. You will have highly informational and interactive telephone seminars that are live each week and recorded for your review.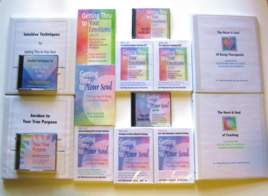 You will receive a wealth of in-depth study materials:
• Holistic Coaching "7-Part Roadmap" Seminar: 8 hours of downloadable audios with handouts. You will get immediate access to them upon enrolling to get off to a strong start.

• An easy-to-read, in-depth Holistic Coaching and Healing Manual for each course, by Drs. Phillip and Jane Mountrose. This carefully organized manual includes separate parts for each of the courses. In addition there are extensive appendices with valuable information on professional development, coaching basics, being therapeutic, and more resources.

• State-of-the-art books, audios and DVDs by Drs. Phillip and Jane Mountrose Professionally produced hard-copy multi-media material, covering the essentials of energy healing, holistic coaching, EFT, Spiritual Kinesiology and more...

Plus *SPECIAL BONUS* How to Build Your Holistic/ Spiritual Practice included with any Certification Program; A step-by-step program on how to attract clients and create a prosperous practice. Includes connecting your practice with your purpose, crafting your message, finding your niche, writing an ezine and blog and much more. Fully downloadable 9 hours of audio, worksheets and e-handbook. Available for immediate download. ($197 value).
The Holistic Coaching and Healing with EFT Certification is an in-depth personalized training. It's a practical and profound program that combines coaching and healing in a spiritual context, that goes into details with out step-by-step Heart and Soul of Success Signature System.

Here's a small sampling of what you'll learn:
Determining your life purpose and major stages of spiritual development

Understanding people's "overleaves" -- their role, goal, mode, attitude, body type and chief defense. Drawn from the Michael and Gurdjieff teachings, this is essential information for understanding people's differences and similarities

How to use EFT (Emotional Freedom Techniques) for consistent results and to combine it with coaching

Easy-to-use and reliable dream interpretation

How to address and resolve core issues with our GTT (Getting Thru Techniques) such as the Miracle Reframe Process with EFT, the 7 Levels of Healing Process, the Integration Process and much more.

How to understand and coach people on attracting abundance, including the missing pieces from the Law of Attraction and The Secret.

How to map out the Four Freedoms (guideposts for an optimal life) for yourself and others

Using the soul-centering process to transform health, wealth and relationship and life purpose issues and receive deeper guidance

Setting up programs to help people with smoking cessation and weight reduction

How to often quickly release a wide variety of fears and phobias

Using our signature Wheel of Fortune Coaching Tool to get clear on money and 8 related aspects to help people at a core level.

Using NLP (Neuro Linguistic Programming) to build rapport with people and quickly know how to help them

Using Spiritual Kinesiology (SK), our process where we combine healing from the soul with muscle testing. A powerful alternative to EFT and just as effective.

Overcoming co-dependence and leading a soul-based life, aligned with your life purpose and much, much more...
See more details on each course at right sidebar>>>

You will receive all of the above with personalized, expert feedback from us. You will also make invaluable connections with your fellow class members.
Plus you will receive our entire "How to Build Your Holistic Marketing Practice," with additional key marketing material throughout the course.



Victor Romero --
Physical Therapist and
Rehab Manager

"This Program made a big difference in my life! I used to get upset because I made a lot of poor decisions. The Program really helped me make better decisions than I used to, so my esteem is now much better, as are my relationships, job and income.

The many tools I learned are a big enhancement for me both personally and professionally. Now when I run up against problems I can deal with them, or avoid them before they start."



Anna Easter -- Holistic Practitioner and Artist

"I had initial concerns that the course might be too far out or maybe I wouldn't like it. But it turned out to be a perfect fit! Jane and Phillip were very educated and instilled their positive outlook into all of us. We didn't have to fit into any particular box. And it was great being supported by like-minded people with similar values and interests..

Like others in the class, I took the information and tools to enrich my life and fulfill my purpose. Becoming a holistic practitioner embraced who I really was, and I have been able to bring myself out into the world with all that I learned. I am now able to help myself and others overcome stumbling blocks and become more comfortable and confident."
Start with a Free Planning Session Now
"Like Personal Coaching -- with other great benefits!"
A common element of successful people is they make sure to have ongoing support, which often includes personal coaching. Of course a personal coach is a substantial investment.
Taking the Holistic Coaching and Energy Healing with EFT Certification Program gives regular personal support and important feedback for you to move forward, with other powerful benefits. It includes:
The weekly support of teachers, who are veteran holistic coaches, and like-minded classmates

In-depth and easy-to-apply tools and knowledge for life purpose, relationships, health and career, which you can use immediately, and for a lifetime.

Your 4 monthly teleclasses and 4 telelabs (all recorded for review and your reference library)
This certification program includes in-depth training, individual and group support, and more, for a smaller investment than hiring a personal coach. It works well for both personal and/or professional development.
Why this Program is Exceptional:
Top 5 Reasons to become a Certified Holistic Coach and Healer with EFT
We make ourselves very available to our students, to answer questions that come up and help them individually through direct contact as well as in the teleclasses and telelabs. Other training programs can be quite impersonal, where you don't have direct and easy access to the lead trainers and creators of the program.
Other programs can also be far more costly too. They can lock you into year contracts. We know because people who apply to our program tell us about how they wish they had found out about ours before they locked into a program that wasn't fully satisfying, one that they couldn't easily stop.
Our program is a premium one, so the cost fairly reflects it. You wouldn't expect to have a world-class, transformational training at a bargain basement price. We do offer different options and payment plans that we discuss with you during your Free Strategy Planning Session.
Having taught this Program for over 15 years, we know it works. People love it and find it one of the best things they've ever done - both personally and professionally. If emergencies come up or it turns out not to be the right fit, you can stop at any time and just pay for what you have received thus far.
Here are 5 reasons that make this a unique transformational program, with so much spiritual depth and hands-on tools and training:
1. Combines coaching and healing is essential to be fully effective. Most programs only offer either coaching or healing. Using EFT with coaching is easy and very effective, applicable to a wide range of issues -- from manifestation to success to life purpose to health and more.

2. You will gain the many profound benefits of a course developed over 15 years. These include time-tested tools and approaches as well as the latest developments in the field.

3. You will be in a like-minded community with other learners. You'll develop valuable relationships with your classmates as friends, practice partners and colleagues. Those who take the program report these relationships as very helpful and supportive.

4. Your confidence will grow in leaps and bounds, empowering you to coach and heal yourself and others successfully. You will be able to deliver consistent results to others that are valuable and sought after, so they will invest in your services This will give you a strong foundation for building a profitable business.

5. The program in itself is life changing. Your many ah-ha experiences, the profound tools and targeted topics you'll learn will be invaluable. As a result, your connection with your inner wisdom grows far deeper, aligning with your deeper purpose.

this telecourse certification program helps those who want proven coaching/healing skills to transform lives, including their own. We also specialize in a hands-on spiritual approach for optimal growth and awareness.
What people generally say they get from this telecourse certification is a new life -- with the tools, knowledge and confidence they need to succeed at a deeper, more meaningful level.
Frequently Asked Questions
Q. What will I be able to do with my certification?
Everyone who takes this program will receive a powerful toolbox of healing and coaching tools, which they can put into immediate use. This translates into enormous advances in personal growth and effectiveness in transforming one's own issues as well as helping others. Some people choose to use this certification to build or enhance a practice as well. It also complements many other areas of business and personal life.

As a note, coaching does not require licensing, like medicine, therapy or psychiatry does. The certification you receive will be issued from Awakenings Institute, a non-profit corporation.
Q. What will I learn in each of the three courses?
See the top right sidebar of this page. It gives examples of the many elements your will learn, drawn from holistic coaching, EFT, Spiritual Kinesiology, Hypnotherapy, NLP and more.
Q. How is this program different from other trainings?
This program is a unique, practical blend of both coaching and healing with EFT and other modalities, like NLP and hypnotherapy. You need both to be fully effective. Coaching for support and energy tools for clearing blocks. Plus there are many original, tested techniques the Mountroses developed themselves (like Spiritual Kinesiology) that you will add to your toolbox that you can use for a lifetime...

The program has a hands-on spiritual approach. It's been developed, refined and tested for nearly two decades. You also get immediate access to the instructors and creators of the training, the Mountroses, though regular Q & A sessions and much more.

Also, having weekly telecalls is a convenient way to learn, that deepens the learning without overloading you at one time -- with all calls recorded for review or if you miss any.
Q. What is the investment in the program?
There are different payment plans, including monthly rates which are quite affordable, plus different levels of certification. It is a premium program, so of course you wouldn't expect to pay, say, a $100 for a unique, in- depth transformational training.
We would enjoy discussing your goals and options with you personally (see scheduling a planning session link below).

People who take this Certification Program follow their guidance and take action. They aren't looking for the bottom of the barrel, least expensive program, but one that is fairly priced and highly effective.
They want depth of materal, access to the instructors and a proven system to succeed. They understand the need to stretch and grow in different ways to succeed with their progress.
People who do take in the Holistic Coaching and Healing with EFT Certification Program typically report that it is one of the best investments they ever made because of the quantum shifts in understanding they receive, the powerful array of hands-on tools, clarity on their life purpose and more....
Here is what Gary Craig, the originator of EFT, wrote in the Foreword to our first EFT book:

"This book provides a powerful array of techniques that just about anyone can use to overcome obstacles to experiencing genuine emotional freedom... Let this dedicated pair help you fulfill your potential, clear blockages, and move upward with the Healing High Rise. The view from the top is spectacular!"
Start with a Free Planning Session Now



We understand that this training is not for everyone. But for those who are drawn to this certification program, for those who want more transformational results in coaching and healing, it is different. It's vitally important for some to move forward now.
So what will happen if you don't act? What if you let this opportunity slip away?

You've heard the saying about dying with your music inside. Perhaps that is dramatic, but perhaps not. For people like us, and those we train, making a difference, getting your message out, and creating a better world… is of the utmost importance.

When you follow your heart, you connect with your dreams and aspirations. You become more alive... You feel more confident... and know more about how to take the right action and produce results.

The more you put it off, the worse you'll feel. Follow your heart, it always finds a way. Give us a call now there are no obligations. We would enjoy discussing possibilities for your particular situation.
The next telecourse is Manifesting Your Dreams. It is one of our most popular courses -- and you can start right away.
If you are interested in this course, please take action now, while you have this opportunity. Just "thinking about it" can be a recipe for missing this opportunity. Successful people move forward
Also, space is limited. We can also go over with you various options and programs that best meet your personal needs.
Manifesting Your Dreams and Purpose is one of the three transformational courses that comprise the Holistic Coaching and Healing with EFT Certification Program. Course descriptions can be found on the right column.
If you are interested in this program (or other related ones) start by getting a free planning session.
Filling out this short application will help you get clarity on what you want and let us know best how to help you. If it's a good fit, we will show you how to get started immediately.
Get a Complimentary Personalized "Planning Session"
If you think this program may be for you, here's your next step:
Click on the link below and get a Free Planning Session.
In this Planning Session, we'll explore where you are now in your life and career, where you want to go, challenges that might stop you from getting there, and steps you can take to ensure your success.
We'll answer any questions you might have and we'll see if one of our programs is the right step for you. We also can suggest other related courses and offerings that could be very valuable for you.
By the way, has anyone ever taken the time to explain to you the unique value of combining coaching with holistic healing and EFT? We'd love to fill you in.
We look forward to connecting with you!
To the heart of your success,


Drs. Phillip and Jane Mountrose
Founding Directors of Awakenings Institute and the Heart of Success Academy
Don't let your light flicker and dim. If you do, won't you always wonder what you missed and what might have been? You're here to make a difference. Go for it!
Uncertain?
Take the EFT Coaching and Healing Quiz.
In just 5 minutes, you'll get revealing Insights and personalized results.
.