Would you like to learn powerful skills for improving your life and the lives of those you love… or for becoming a  Holistic Life Coach and Healer?
Do you want to accelerate your spiritual growth and make a positive difference in peoples' lives?
If so, you can explore your possibilities today with our Free Holistic Life Coaching and Healing Success Kit!
The Coaching Success Kit includes keys for becoming a Holistic Life Coach and more.
You'll gain instant access to: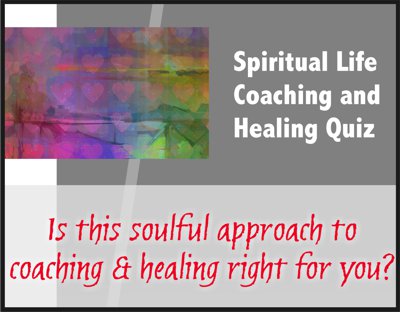 The Spiritual Life Coaching and Healing Quiz, an enlightening way for you to truly feel if it's for you
The Wheel of Aliveness, a unique coaching tool you can use starting today to bring more aliveness into your life
Fascinating Facts about Coaching, Holistic Healing, Awakenings Institute, and more
A Bonus EFT Healing Video you're sure to enjoy and more…
Why Become a Holistic Life Coach?
It's important to realize that a holistic approach to coaching can make a huge difference in our results. It provides a unique opportunity to explore the many ways that everything is connected. Holistic life coaching integrates the body, emotions, mind, and spirit so you and your clients, if you choose to coach professionally, can live fully and grow in wonderful ways.
The addition of powerful healing processes like EFT and SK (Spiritual Kinesiology) allow users to clear the blocks that inevitably appear on the path. We've seen over and over that this can save weeks, months, and even years of suffering.
It's empowering to have tools you can use for the rest of your life to get on track and stay on track for the life you were born to live. It will open you fully to your true potential!
Do you feel like you are here for a reason?
Might Holistic Life Coaching and Healing with powerful processes like EFT be the solution you've been seeking?
Each of us is here for a reason and we're designed to expand and dream. If you think about it for a moment, the thought of becoming a creator of the life you're meant to live probably feels life-enhancing, while the thought of stifling this creativity probably feels stifling. Notice the difference in your mind and body.
Make Some Positive Changes with the Wheel of Aliveness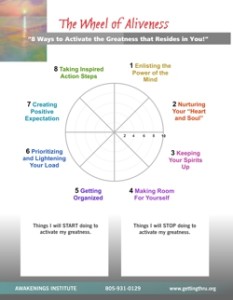 When you register for your Holistic Life Coach Success Kit, you'll receive our "Wheel of Aliveness." Coaching wheels are wonderful tools you can use to take control of your life and open to new possibilities.
We designed the Wheel of Aliveness as a starting place for activating your full potential and moving more freely in the direction of your dreams. As Oprah Winfrey noted:
The biggest adventure you can take is to live the life of your dreams.
Aliveness is the essence of life, as is the simple desire to feel happy and good. From this perspective, your greatest wealth is within your reach.
Learn Some Fascinating Facts About Becoming a Holistic Life Coach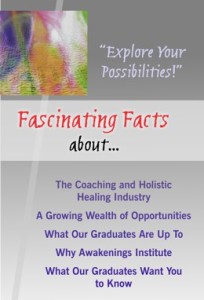 Your Holistic Life Coaching and Healing Success Kit also includes a "Fascinating Facts" report with information about coaching, complementary healing practices, and our Awakenings Institute.
There's never been a better time to move in the direction of the life you truly desire and make a real difference in the lives of those around you. Whether your focus is on coaching yourself or others, coaching and accessing your untapped potential can change your life in surprisingly positive ways.
*
The Time to Take Your Next Step is Always Now
Holistic Life Coaching allows you to access deeper levels of awareness, confidence, and truth. It becomes clear that waiting for the perfect time to create the life you truly desire is futile. The only time is now. As Eckhart Tolle advised:
"Realize deeply that the present moment is all you have. Make the NOW the primary focus of your life."
Explore your possibilities for becoming a Holistic Life Coach now
with our Free
Success Kit! —
Get Your Free Kit Now
Our Mission
Programs offered on this site are part of a larger mission. This website was created by Awakenings Institute, a non-profit organization devoted to creating a more loving world where the unique gifts that each person brings are honored and nurtured.
With the benefit of technology, Awakenings Institute's spiritual mission reaches individual's worldwide, including the United States, Canada, the United Kingdom, Australia, New Zealand, Singapore, and more. People from almost every continent – North America, South America, Europe, Asia, Africa, and Australia – have participated in Awakenings' programs over the years.
You, too, can be part of the change you wish to see in the world and Awakenings Institute would be honored to support you in realizing your dreams.