It's easy to understand why so many people say the EFT Tapping Technique is magic. It works!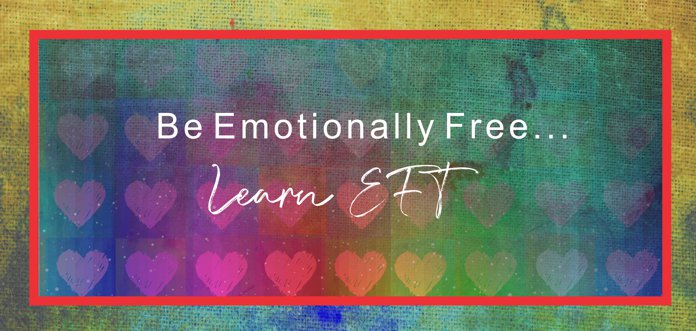 What would it be worth to you to learn the EFT tapping technique, a simple, non-invasive process that has helped thousands of people to clear stuck emotions, increase success, lose weight, reduce pain, and improve their overall health and well-being?
You may say it sounds impossible, but it's not. EFT is on the leading edge of healing. And if you are open to trying something that may be vastly different than anything you have done before, then you may want to learn the EFT (Emotional Freedom) tapping technique.
Why Learn the EFT Tapping Technique?
EFT, the Emotional Freedom Techniques, is a magical group of techniques aimed to release stuck emotions that prevent you from experiencing happiness and realizing your goals in life.
The EFT tapping technique is really easy to learn. Just about anyone can use this, and the results are almost instantaneous! We've seen lots of "one-minute wonders" since we first learned of EFT (Emotional Freedom Techniques)  in 1998. In many cases, people experience significant changes in minutes, days, or weeks of use compared with weeks, months, or years with conventional methods. Now it's one of the most important elements in our holistic approach to healing and living life to the fullest.
With Holistic EFT, you will learn direct and elegant ways to clear and release sometimes hidden blocks that have been holding you back for years.
Learning to Release Painful Emotions with EFT
Do you feel as if what you want in life is right there in front of you, but you just can't seem to reach it?
Old stuck, painful emotions can hinder you from creating happiness and success in all aspects of your life. They are the obstructions to your otherwise smooth path to success.
The EFT tapping technique involves tapping on specific "EFT Tapping Points" on the body to release these blockages. They are specific points in the acupuncture meridian system, but you don't have to know anything about acupuncture or use needles to use EFT.
Imagine a life free from the clutches of these kinds of stuck emotions:
Stress and anxiety
Anger and frustration
Relationship issues
Worries related to money, success, and more
Depression
All kinds of fears and phobias
Negative memories and inner child issues
Self-doubt
Guilt, grief, confusion and just about any other emotion imaginable
Those icky, yucky and generally awful feelings you can't even find a name for.
And more…
What You Stand to Gain When You Learn the EFT Tapping Technique
The benefits go on and on. In addition to releasing the negative emotions, the EFT tapping technique can also help you to:
1. Improve your health:
Reduce cravings for substances like chocolate and cigarettes.
Relieve pain.
Overcome insomnia.
Increase your overall well-being.
2. Increase your effectiveness in everything you do:
Improve your performance in sports, your career, and any aspect of your life.
Release your limitations about money and open to creating abundance in your life.
Improve your business and personal relationships.
Speak up in public situations and where communication is challenging now.
3. Improve the quality of your life:
Release the feelings that prevent you from experiencing a life filled with love and happiness.
Build up the courage to try the things you have always wanted to do, but never dared.
Enhance your personal and spiritual growth.
4. Achieve greater success in business and in life.
The EFT Tapping Technique: Your Magical Key to Success
We have seen thousands of lives transformed by EFT (Emotional Freedom Techniques). Where conventional methods failed, the EFT tapping technique often provided the solution. In fact, when dealing with emotions, EFT reduces or eliminates the pain most of the time.
The biggest challenge with the EFT tapping technique is to be open minded about the possibility that life could be magically different. It's a form of energy medicine, which is becoming widely accepted as a complementary practice. Of course, the proof is in the results. And the fact is that the EFT technique can help you to overcome stubborn emotional patterns in a short time.
If you're new to this, also keep in mind that learning EFT takes practice. Many people compare using EFT to having their own superpowers! They know they can use it anytime the need it and anywhere they like.  Just think what this might mean to you!
With the EFT tapping technique, you have in your hands the ability to pursue your dreams and reach your goals. It's up to you.
Ready to try the EFT tapping technique?
CLICK HERE to learn how you can enjoy the magic of EFT just minutes from now.
Want to know more about us?
This website is unique. We're here with a bigger mission in mind. We want to change the world and you can join us.
Programs offered on this site support the mission of Awakenings Institute, a non-profit organization devoted to creating a more loving world where the unique gifts that each person brings are honored and nurtured.
With the benefit of technology, Awakenings Institute's spiritual mission reaches individual's worldwide, including the United States, Canada, the United Kingdom, Australia, New Zealand, Singapore, and more. People from almost every continent – North America, South America, Europe, Asia, Africa, and Australia – have participated in Awakenings' programs over the years.
You, too, can be part of the change you wish to see in the world and Awakenings Institute would be honored to support you in realizing your dreams.*